Everyone loves pasta! It just makes you feel good. We have recently discovered the beautiful and delicious pastas made by Stephanie Fees in Lynchburg, VA. Her company, Scratch Pasta, uses Virginia grown wheat in the campanelle. It is toothsome and tasty!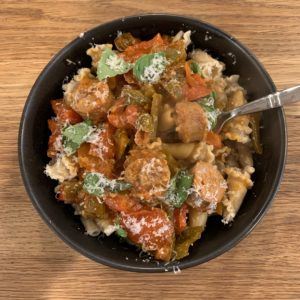 This recipe for Italian sausage and peppers over campanelle uses peppers in sauce from Rozy's Peppers in Fairmont, West Virginia. North central WV has a deep Italian heritage. Immigrants came to work in the coal mines. Much of the local cooking still resonates with this Italian influence.
Italian Sausage and Peppers over Campanelle
serves 4
3 link of mild Italian sausage, I used locally made Angelo's
2 TBS olive oil
1 large yellow onion, sliced
3 cloves of garlic, minced
1 28 oz can diced tomatoes
2 jars of Rozy's Peppers in Sauce, Mild
1/2 tsp coarse salt, such as J.Q. Dickinson's heirloom salt
2 TBS chopped Italian parsley
1 TBS fresh basil leaves, torn into small pieces, or sliced
1/4 cup fresh grated Parmesan cheese
1 box of Scratch Pasta, Virginia Wheat Campanelle
Heat 1 TBS olive oil in a saute pan over medium high heat. Cook the sausage links turning often until browned, about 10 minutes. Remove them from the pan. Add remaining 1 TBS of the olive oil.  Return it to medium high heat. Add the onion. Cook until translucent. Add the garlic and stir. Cook until fragrant. Add the diced tomatoes and the 2 jars of peppers. Slice each link of sausage into 6-8 pieces. It may not be cooked through. Add to the pan. Cook about 10 minutes, at a slow simmer. Add the salt, stir, and cook 5 minutes more.
Cook the pasta in salted boiling water for 4  minutes. Drain and split between 4 bowls.
Spoon sauce over pasta in each bowl. Top with parsley, basil and Parmesan.