What is a brine and why should I use it in my meal preparation?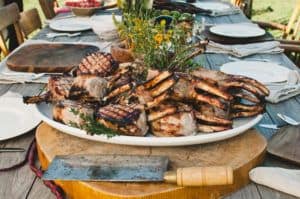 A wet brine is a solution that contains salt, spices, sugar and water. Brining turkeys has become very popular at Thanksgiving, but other meats benefit from it as well. Putting your meats in a wet brine adds flavor and moisture. This is especially helpful with meats that have low fat content, such as pork loin, chicken and turkey. We sell a premixed brine, Appalachian Dry Brine Mix,  that you just add water too. It is full of flavor with lots of herbs and spices. You can experiment with your own combination of herbs and spices, to create your own blend. You'll immediately notice a difference once you taste the finished product.
Here is a recipe for grilled pork chops that involves brining. See what you think!
Grilled Bone-In Pork Loin Chops with Apple Slaw
serves 4
4 bone-in pork loin chops, 3/4″-1″ thick
1/4 cup J.Q. Dickinson's Appalachian  Brine Mix
2 cups of water, divided
Place dry brine in a bowl. Heat 1 cup of water to boiling. Add to brine and stir to dissolve. Add a few ice cubes to the remaining 1 cup of water. Add to the brine to bring to room temperature.
Place pork chops in an appropriately sized ziploc bag. Add the brine. Seal the bag and remove excess air. Make sure pork chops are well covered with the brine. Refrigerate for at least 2 hours, and up to 6 hours.
Remove from brine. Dry with paper towels.
Grill over high heat until they reach an internal temperature of 140 degrees. About 10 minutes, depending on the thickness of the chops.
Serve with apple slaw.
Apple Slaw
4 cups of finely sliced cabbage (about 1/2 of a large green cabbage)
1 TBS honey
1 TBS fresh lime juice
1 TBS canola oil
1 TBS seasoned rice wine vinegar
1/4 tsp coarse salt, such as J.Q. Dickinson's Heirloom finishing salt
1 honey crisp apple, washed and thinly sliced
1 medium jalapeno pepper, ribs and seeds removed, diced
1 scallion, thinly sliced
1 medium red bell pepper, diced
2 TBS chopped fresh cilantro
Place the cabbage in a large bowl.
In a smaller bowl mix the dressing ingredients: honey, lime juice, oil, vinegar and salt. Add the apple slices to the dressing and toss to coat. Add to the cabbage with the remaining vegetables and the cilantro. Stir well to combine.
Cover and chill for at least 1 hour before serving.