Summer is a time for eating al fresco. Nobody wants a big, hot and heavy meal when the weather is so warm.  This is my favorite time of year to cook. I can have most things prepped ahead of time, fire up the grill and serve an easy, delicious dinner.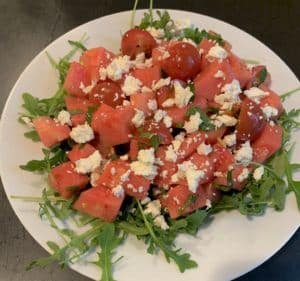 This salad is always a winner for family and friends.  Sweet, juicy watermelon, paired with tangy tomatoes, feta cheese and mint is a hit with all ages. Leftovers are delicious the next day as well.
Watermelon, Tomato and Feta Salad
4 servings
2 cups of seedless watermelon, cut in 3/4″ cubes
1 1/2 cups cherry tomatoes, halved
1/4 cup mint leaves, chiffonade (shredded in thin slices)
2  cups baby arugula
1/2 cup feta cheese crumbles
Dressing:
1 lemon, zested and minced
2 TBS lemon juice
2 TBS white balsamic vinegar
pinch of red pepper flakes
1/2 tsp coarse salt, J.Q. Dickinson's Heirloom finishing salt
1/4 cup extra virgin olive oil
Mix all dressing ingredients, except the oil, in a bowl. While whisking, drizzle in the oil to emulsify and combine the ingredients.
In a large bowl gently toss the watermelon, tomatoes and mint leaves together with a rubber spatula.  Add the dressing and toss to coat.
Spread the arugula on a platter. Top with the salad and sprinkle with the feta cheese crumbles.
Enjoy!
This is a great accompaniment to anything off the grill, from hamburgers to steaks, chicken and seafood.