I always have preserved lemons in the back of my refrigerator. Adding some chopped rind to a salsa or a vinaigrette gives a dish an extra layer of flavor. Once you try it you won't want to be without a jar either.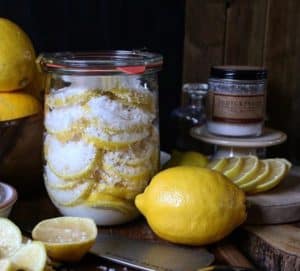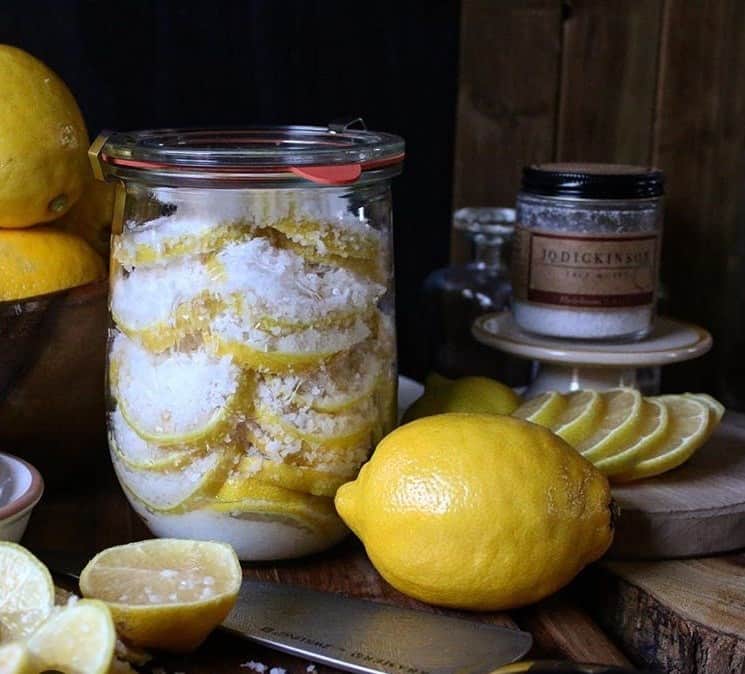 As citrus season comes to an end this is a great way to have the flavor on hand at all times. Preserved lemons are traditionally used in Moroccan cuisine. They add a hint of salty bitterness and a tart facet to food. The flavor is unexpected, but delicious. The salsa verde recipe that follows is a wonderful accompaniment to grilled fish, lamb chops, or tossed with pasta.
Preserved Lemons
8 lemons, washed well (Meyer lemons are delicious too, if you can find them)
1 cup J.Q. Dickinson Heirloom Salt, or other medium coarse salt
1 TBS black peppercorns
2 bay leaves
Slice 5 lemons into 1/4″ slices. Layer in a medium jar with salt and peppercorns. Slide the bay leaves down the side of the jar. Squeeze the remaining 3 lemons into the jar to cover the slices completely. Seal with a tight fitting lid. (The best is a hinged jar with a rubber gasket as the salt and lemon juice can cause metal jar lids to corrode. If you don't have a lid with a rubber gasket you can place a piece of plastic wrap over the top before screwing on your metal lid.)
Let sit in the refrigerator for 3 weeks. They will be good for up to 2 years, or more, as long as they are covered with the briny liquid.
You can experiment with other flavorings as well. Add cloves, cardamom seeds, cinnamon sticks, rosemary sprigs, thyme leaves or dried chilies.
Salsa Verde with Preserved Lemon
4 TBS chopped Italian parsley
2 TBS chopped mint leaves
1 TBS chopped chives
3 TBS chopped basil leaves
2 cloves garlic, minced
4 slices preserved lemon, rinse well, discard flesh, finely chop the peel
1 TBS Champagne vinegar
1/8 tsp coarse salt, J.Q. Dickinson Heirloom finishing salt
pinch of red pepper flakes
1/2 cup extra virgin olive oil
Place the herbs, garlic, preserved lemon, Champagne vinegar, salt and pepper flakes in a bowl. Mix well.
Drizzle in the olive oil while whisking.
This will keep in the refrigerator for 3 days. It may discolor slightly but the flavors will remain fresh.