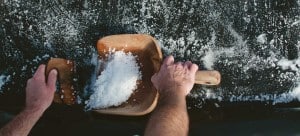 We are currently in our 2023 production season as of April 22nd. Our shop is open in Malden Monday to Saturday from 10:00 am to 4:00 pm
Tours featuring our history and salt production are available Monday through Saturday every 30 minutes starting at 10 am, with the last tour going out at 3:30 pm. Each tour lasts 20-30 minutes and is conducted mostly outdoors, rain or shine! Wear shoes you're comfortable walking in, you'll walk about the length of a football field during the tour.
For groups larger than 10, please call ahead.
Questions? Call us 304-925-7918 or email info@jqdsalt.com
We are located at
4797 Midland Dr. Malden, WV 25306 next to Carver Career and Technical School