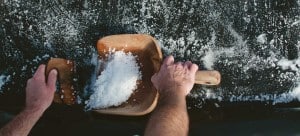 Our 2023 salt season has come to a close. We will not be doing tours again until April 20th, 2024. 
Our shop is still open so feel free to stop by to pick up your favorite items.
Monday to Friday from 10:00 to 4:00.
We'll be open on Saturdays through December 16th.
Questions? Call us 304-925-7918 or email info@jqdsalt.com
We are located at
4797 Midland Dr. Malden, WV 25306 next to Carver Career and Technical School