EVENTS
2021 Farm-to-Table Events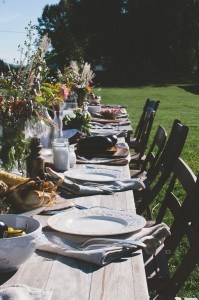 We are planning some great events for the Spring, Summer and Fall.
May 20th: Montclaire String Quartet: An evening of the senses. Music, Food & Wine. Food by Chef Paul Smith and 1010 Bridge  Ticket Sales are closed
June 17th: Chef Donnie Orr, Morgantown, WV  SOLD OUT.
July18th: Chef David Rule of The Appalachian, Sevierville, TN, SOLD OUT
Menu
Passed Canapes
Crispy Pork Belly Skewer withPickled Fennel
Eloisa's Pork Tamale withSalsa Verde
1st Course
Cruze Farm Nigari Ricotta
Grilled Baguette, Roasted Peaches, Pickled Shallots, Petite Greens
2nd Course
Smoked Catfish
Tomato, Okra, Basil, Carolina Gold Rice
3rd Course
Roasted Quail
Appalachian Blue Barley, Roasted Carrots, Carrot Top Pesto, Mossy Creek Mushrooms
4th Course
Wood Grilled Dry Aged Beef
Smoked Potatoes, Pickled Ramps, Demi, Olde Virden's Rampage
5th Course
Chocolate Ganache Cake
Sea Salt Caramel, Black Raspberry Jam
$90 per person for food, non-alcoholic beverages and service.
Cash bar with spirits, wine and beer
More to come!
We have rescheduled the 4th Annual Malden Salt Fest for May 21, 2022
Click to view: Our Event Photo Gallery
Are you interested in having an event at J.Q. Dickinson Salt-Works? We can handle anything from a casual BBQ to a wedding reception for 300. Corporate retreats, group meetings, lunch and a tour? We do that too! Please contact Ashton Pence for information and pricing: ashton@jqdsalt.com or (304)925-7918 (office) or (304)421-8333 (cell)