EVENTS
2019 Farm-to-Table Events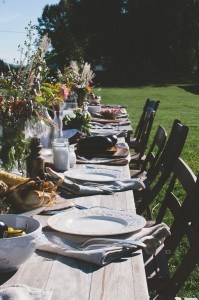 We feel it is important to support the growing regional food system by sharing the talents of Appalachian chefs with you. They source locally and create delicious, unique meals. We also use these events as an opportunity to support WV nonprofits focused on  healthy food, farm, or lifestyle initiatives. $10 of your ticket price will be donated to a specified charity in the state.
Please join us for one of these amazing evenings!
CELEBRATING THE SEASON AT J.Q. DICKINSON SALT-WORKS
Our Celebrating the Seasons Dinner Series features a regional chef cooking at the Salt-Works each month, using local ingredients. A portion of the proceeds from these events is given to a local non-profit that supports farm, food or healthy life-style initiatives. 
August 15th: Chef Chris Dilts from The Waterwheel Restaurant of The Inn at Gristmill Square in Warm Springs, VA. Menu available Here. Tickets will go on sale July 25th. Buy Tickets HERE
August 29th: James Beard nominated Chef Ashley Capps, from Buxton Hall, Asheville, NC. Menu available here. Tickets available here.
September 16th: Chef Matt Welsch of The Vagabond Kitchen, Wheeling, WV. Menu here. Tickets available here.
October 8th: Chefs Mike Costello and Amy Dawson of Lost Creek Farm, Lost Creek, WV. This dinner will feature offerings from Hawk Knob, Appalachian Cider and Mead. Menu available here. Tickets available here.
November 7th: WV native, Chef Michael Bowe of the Red Yeti, Jeffersonville, IN. Tickets available here. Menu available here.
Are you interested in having an event at J.Q. Dickinson Salt-Works? We can handle anything from a casual BBQ to a wedding reception for 300. Corporate retreats, group meetings, lunch and a tour? We do that too! Please contact Marie Clark for information and pricing: marie@jqdsalt.com or (304)925-7918 (office) or (304)982-3017 (cell)