EVENTS
2022 Farm-to-Table Events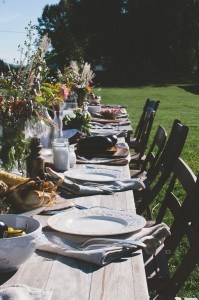 September 28th    SOLD OUT
Chef Peter Economou cooks Italian with wine pairings by Ted Armbrecht and the Wine Shop
Menu
Amuse Bouche with a Prosecco Spritz
Charcuterie Plate: Terradora DePaolo Falanghina
Artisanal Breads by Rory Perry
Late Summer Greens with Balsamic Pear Vinaigrette: Terradora dePaolo Falanghina
Rissotto with Hernshaw Farms Mushrooms: Castello di Nieve Barbaresco, or,  upgrade to Paitin Barbaresco Serrabella
Swift Level Ribeye all Fiorentina, Arugula, Roasted Yukon Gold Potatoes: Caparzo Brunello di Montalcino, or upgrade to Le Serre Nuove dell' Ornellaia
Sarah's Bakery Tiramisu with Cannoli: Castellare Vin Santo
Coffee Presentation by Venu Menon
$150 per person for standard wine pairings, or $195 per person for the premium wine choices.
Price includes your meal, wines, and service.
October 3rd
Chef Anne Hart of Hart Kitchen, Clarksburg
Tickets on Sale September 9th.
Menu
"A Study of Tomato"
Deviled Egg Caprese
Bloody Mary Bouillabaisse Bisque
A Garden Plate of Preserved, Poached and Pickled
Beef and Tomato Ravioli Bourguignon
Old Fashioned Tomato Soup Cupcakes, Mustard Frosting Frozen Tomato
$80 per person, includes food, service and non-alcoholic beverages.
A cash bar with beer, wine and spirits will open at 6:00 pm
Click to view: Our Event Photo Gallery
Are you interested in having an event at J.Q. Dickinson Salt-Works? We can handle anything from a casual BBQ to a wedding reception for 200. Corporate retreats, group meetings, lunch and a tour? We do that too! Please contact our Event Team at events@jqdsalt.com  or (304)925-7918 (office).