EVENTS
2020 Farm-to-Table Events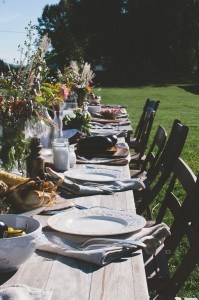 We feel it is important to support the growing regional food system by sharing the talents of Appalachian chefs with you. They source locally and create delicious, unique meals. We also use these events as an opportunity to support WV nonprofits focused on  healthy food, farm, or lifestyle initiatives. $10 of your ticket price will be donated to a specified charity in the state.
Please join us for one of these amazing evenings!
CELEBRATING THE SEASON AT J.Q. DICKINSON SALT-WORKS
Our Celebrating the Seasons Dinner Series features a regional chef cooking at the Salt-Works each month, using local ingredients. A portion of the proceeds from these events is given to a local non-profit that supports farm, food or healthy life-style initiatives. 
May 18th: Chef Opie Crooks of A Rake's Progress, located in Washington, D.C. at The Line                        Hotel. Menu available in April. Tickets available in April.
Other events TBA.
Tour Launch Event
Join us on April 18th from 10 AM to 4 PM and learn about the production of our salt! Take The Complimentary Tour or harvest your own salt with The Experiential Tour. During your visit, victuals and libations will be available for purchase. Menu to come.
Mother's Day Brunch 
Join us again, on May 10th for our second Mother's Day Brunch. Multiple seating's will be prepared. Menu available in April. Tickets available in April.
Carver Roots Kitchen Dinner
Join us May 27th for a multi-course dinner prepared by Carver Career Center's Culinary Program, AKA Carver Roots Kitchen. The menu will be assembled and prepared by the Culinary Program students. Menu available in May. Tickets available in May.
Are you interested in having an event at J.Q. Dickinson Salt-Works? We can handle anything from a casual BBQ to a wedding reception for 300. Corporate retreats, group meetings, lunch and a tour? We do that too! Please contact Marie Clark for information and pricing: marie@jqdsalt.com or (304)925-7918 (office) or (304)982-3017 (cell)