EVENTS
EVENTS at J.Q. Dickinson Salt-Works are cancelled until the COVID-19 quarantine is lifted. Check back for updates.
2020 Farm-to-Table Events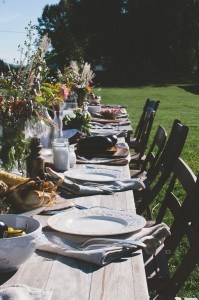 We feel it is important to support the growing regional food system by sharing the talents of Appalachian chefs with you. They source locally and create delicious, unique meals. We also use these events as an opportunity to support WV nonprofits focused on  healthy food, farm, or lifestyle initiatives. $10 of your ticket price will be donated to a specified charity in the state.
Please join us for one of these amazing evenings!
CELEBRATING THE SEASON AT J.Q. DICKINSON SALT-WORKS
Our Celebrating the Seasons Dinner Series features a regional chef cooking at the Salt-Works each month, using local ingredients. A portion of the proceeds from these events is given to a local non-profit that supports farm, food or healthy life-style initiatives. 
These dinners have been cancelled due to COVID-19. We will resume as soon as we can.
June 18th to 20th : Pop-Up Restaurant with 1010 bridge
Menu
Snack: Hernshaw Farms Mushroom and Gyuyere Popcorn
Starters: Your choice of
Crispy Fried "Nashville  Hot" Oysters: buttermilk herb dressing, bread and butter pickles, toasted brioche
Marinated Mozzarella Arancini: balsamic roasted peppers, pine nut and date chutney, torn basil
Baby Arugula and Roasted Beet Salad: JQD ricotta, candied pecans, cider mustard seed vinaigrette
Entrees: Your choice of
Dijon and Dill Crusted Salmon: Smashed Yukon gold potatoes citrus roasted summer squash
Herb Marinated Joyce Farms Chicken Breast: brown butter and sage dumplings, "pot pie" veloute, parmesan puff pastry
Grilled Terras Major "1010 Cut": Lobster "mac n' cheese", cabernet reduction, truffled foie gras-shallot butter
Vegetarian selection
Dessert: Your choice of
Chocolate Silk Tart: graham cracker crust, burnt marshmallow
Seasonal Cheesecake: French toast, bread pudding crust
$48.00 per person
Full Bar
Reservations taken by telephone only 304-925-7918
Other events TBA.
We have rescheduled the 4th Annual Malden Salt Fest for May 22, 2021
Are you interested in having an event at J.Q. Dickinson Salt-Works? We can handle anything from a casual BBQ to a wedding reception for 300. Corporate retreats, group meetings, lunch and a tour? We do that too! Please contact Marie Clark for information and pricing: marie@jqdsalt.com or (304)925-7918 (office) or (304)982-3017 (cell)