A good ribeye steak is hard to beat. They have the perfect balance of meat and fat, no bones to complicate cooking, and if cooked correctly they are juicy and flavorful. Chimichurri is a great summer accompaniment to any meat. The freshness of the herbs, mixed with garlic, pepper flakes and olive oil is delicious. It can be made ahead of time which makes it a good sauce to use when entertaining.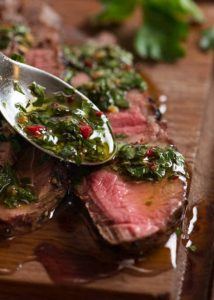 Grilled Ribeye Steaks with Chimichurri Sauce
Serves 4
2 Ribeye Steaks, 1 1/2" thick
2 tsp J.Q. Dickinson Bloody Mary Salt
Chimichurri
1 small shallot, finely chopped
¼ tsp red pepper flakes, such as Olde Virdens
½ medium jalapeno pepper, finely chopped
3 garlic cloves, finely chopped
½  tsp coarse salt, such as  J.Q. Dickinson heirloom
½ cup chopped cilantro
½ cup chopped Italian parsley
1 TBS fresh oregano, finely chopped
2 TBS fresh basil, finely chopped
¾ cup extra virgin olive oil, such as DiTrapano
Rub each steak with 1 tsp of the Bloody Mary salt.
Let sit on a plate for 15 minutes.
Light your grill. Cook steaks to desired doneness. 120 degrees is a nice medium rare. Let the steaks rest, loosely covered with foil for 10 minutes.
Mix all ingredients for chimichurri except olive oil in a bowl. Whisk in the olive oil in a thin stream.
Slice the steak and serve with chimichurri sauce spooned on top.
Extra chimichurri can be saved in an airtight container in the refrigerator for 5 days.