We love to come up with recipes that use the wide variety of products that we carry in our shop. This recipe will become a standard in your home. It is easy and delicious!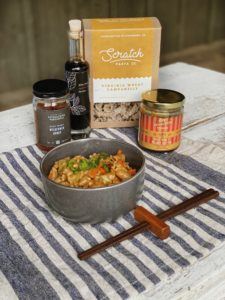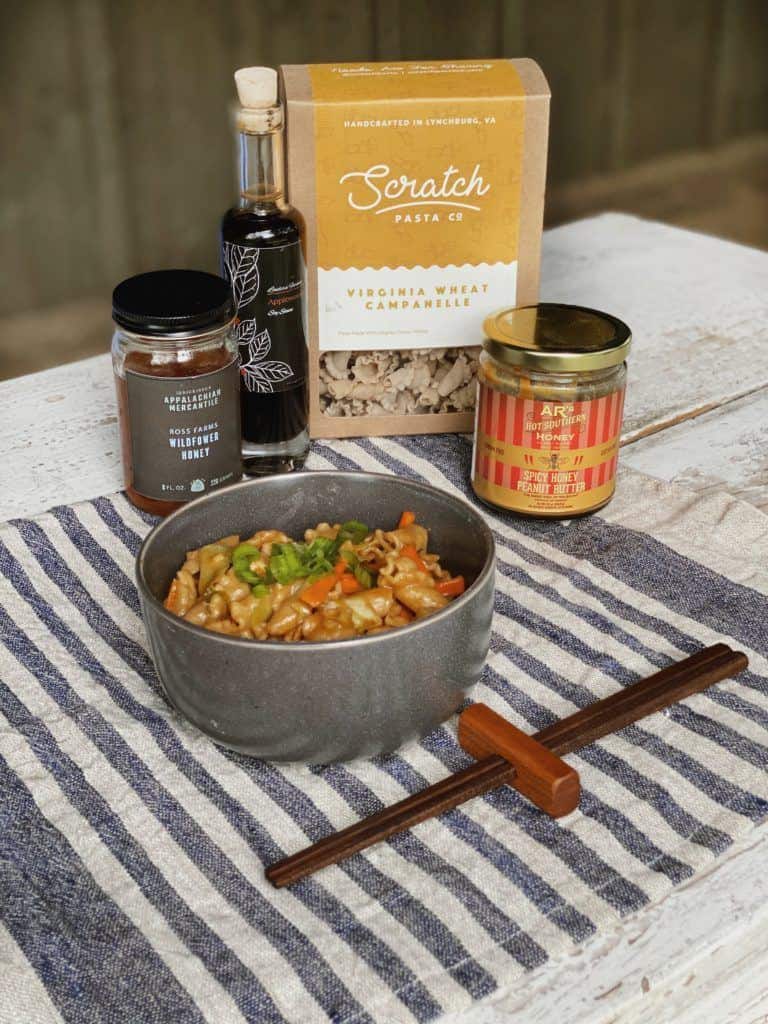 Spicy Thai Chicken Pasta
Serves 6
1 lb Scratch Pasta Virginia wheat campanelle
3 TBS sesame oil, divided
1 cup carrots, julienne
2 cups green cabbage, chopped
2 cups cooked chicken breast meat, chopped
8 green onions, chopped, divided by white and green
3 cloves of garlic, minced
1 TBS fresh ginger, minced
¼ cup honey, Ross Farms wildflower honey
¼ cup AR's spicy peanut butter
¼ cup soy sauce, Lindera Farms applewood soy sauce
3 TBS plain rice vinegar
Bring a large pot of salted water to a boil.
Add the pasta and cook, 8-10 minutes until al dente.
Drain pasta. Toss with 2 tsp sesame oil
Dry pasta pot. Add 1 TBS sesame oil and heat on medium-high burner
Add the carrots, cabbage, chicken, white part of the green onions, garlic and ginger
Saute for a minute or two until fragrant and vegetables start to soften.
Add the honey, peanut butter, soy sauce and vinegar.
Stir to combine. Add the pasta and stir.
Serve garnished with remaining green onions.