EVENTS
2019 Farm-to-Table Events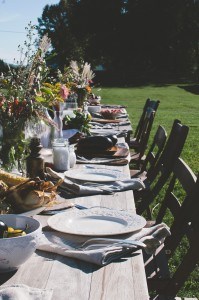 We feel it is important to support the growing regional food system by sharing the talents of Appalachian chefs with you. They source locally and create delicious, unique meals. We also use these events as an opportunity to support WV nonprofits focused on  healthy food, farm, or lifestyle initiatives. $10 of your ticket price will be donated to a specified charity in the state.
Please join us for one of these amazing evenings!
CELEBRATING THE SEASON AT J.Q. DICKINSON SALT-WORKS
Our Celebrating the Seasons Dinner Series features a regional chef cooking at the Salt-Works each month, using local ingredients. A portion of the proceeds from these events is given to a local non-profit that supports farm, food or healthy life-style initiatives. 
April 11th: Chef/Farmer Kristin Smith of The Wrigley Taproom and Eatery, Corbin, KY. Menu here. Tickets available here.
May 20th: The Culinary Arts Class from Carver Career Center. Menu available here. Tickets available here.
June 28th: Chef Wes Arnold of Cafe Appalachia of Pollen8 Inc. Menu available here. Tickets available here. 
July 22nd: Chef Stephen Gustard of The French Goat, in Lewisburg, WV. Galaxy Wine Distributing, with Eric Sorlin of Taub Importers, will be doing wine pairings. Menu available here. Tickets available here.
August 15th: Chef Chris Dilts from The Waterwheel Restaurant of The Inn at Gristmill Square in Warm Springs, VA. Menu available in July. Tickets will go on sale July 25th.
August 29th: James Beard nominated Chef Ashley Capps, from Buxton Hall, Asheville, NC. Menu available in late July. Tickets will go on sale on August 8th.
September 16th: Chef Matt Welsch of The Vagabond Kitchen, Wheeling, WV. Menu here. Tickets will go on sale on August 26th.
October 8th: Chefs Mike Costello and Amy Dawson of Lost Creek Farm, Lost Creek, WV. This dinner will feature offerings from Hawk Knob, Appalachian Cider and Mead. Menu available in September. Tickets will go on sale on September 17th.
OTHER EVENTS ON THE FARM
The 3rd Annual BB&T Malden Salt Fest will be Saturday, September 28th! This event is free to the public and will host Craftsmen and Food Vendors from all over Appalachia to celebrate the history of the Kanawha Valley. Specifically the history stemming from the Salt Industry that once thrived in the valley, and now, thanks to Nancy Bruns and Lewis Payne, continues to prosper in a new light. 2019 marks the 200th anniversary of the establishment of the Presbyterian Church in the Valley. We will celebrate this as well.
10:00 am to 6:00 pm
Musical performances by:
FOOTMAD Lou Maiuri  and the Appalachian Country Cloggers
Brothers of Faith: Gospel Bluegrass
Stony Point Band: Old Time Appalachian music
Historic Talks by:
Dr. John Stealey, of Shepherd University, author of The Antebellum Kanawha Salt Industry and Western Markets
Bill Drennen, author of Kanawha Salt, The Stories of Jesse Cox
Dennis Bills, author of several books about Presbyterianism in the Valley
All authors' books will be for sale
Other Activities:
Parade
The WV Quilt Documentation Project: Bring your quilt dating before 1970 to have it documented by Quilting expert Fran Kordek
Old Fashioned Cake Walks
Tours of the Salt-Works, including the Old Salt-Works, take a train to the old farm
The Daniel Boone Chapter of the Sons of the American Revolution will be demonstrating how people lived at that time
Kids Zone
Paint pumpkins, donated by Gritts Farms
Color a T-Shirt (given out at the parade)
3 Legged Races
Burlap salt bag races
Stories from Adam Booth
DesCoveries Wild Animal Shows with Gary Bussa
Food Trucks
Food and Craft Artisans
Wine, Craft Beer, Cider and Spirits
If you are interested in becoming a vendor, please click here to open the Vendor Application. Please send completed applications to Ashton Pence through email (ashton@jqdsalt.com), fax (304.925.7946) or mail ( 4797 Midland Drive, Malden, WV 25306 ). Thank you and we hope to see you at the Salt Fest!
Are you interested in having an event at J.Q. Dickinson Salt-Works? We can handle anything from a casual BBQ to a wedding reception for 300. Corporate retreats, group meetings, lunch and a tour? We do that too! Please contact Marie Clark for information and pricing: marie@jqdsalt.com or (304)925-7918 (office) or (304)982-3017 (cell)