EVENTS
2019 Farm-to-Table Events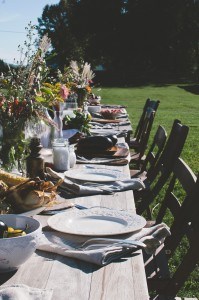 We feel it is important to support the growing regional food system by sharing the talents of Appalachian chefs with you. They source locally and create delicious, unique meals. We also use these events as an opportunity to support WV nonprofits focused on  healthy food, farm, or lifestyle initiatives. $10 of your ticket price will be donated to a specified charity in the state.
Please join us for one of these amazing evenings!
CELEBRATING THE SEASON AT J.Q. DICKINSON SALT-WORKS
Our Celebrating the Seasons Dinner Series features a regional chef cooking at the Salt-Works each month, using local ingredients. A portion of the proceeds from these events is given to a local non-profit that supports farm, food or healthy life-style initiatives. 
April 11th: Chef/Farmer Kristin Smith of The Wrigley Taproom and Eatery, Corbin, KY. Menu here. Tickets available here.
May 20th: The Culinary Arts Class from Carver Career Center. Menu available here. Tickets available here.
June 28th: Chef Wes Arnold of Cafe Appalachia of Pollen8 Inc. Menu available June. Tickets will go on sale June 7th.
July 22nd: Chef Stephen Gustard of The French Goat, in Lewisburg, WV. Galaxy Wine Distributing, with Eric Sorlin of Taub Importers, will be doing wine pairings. Menu available in June. Tickets will go on sale on July 1st.
September 16th: Chef Matt Welsch of The Vagabond Kitchen, Wheeling, WV. Menu available in August. Tickets will go on sale on August 25th.
October 8th: Chefs Mike Costello and Amy Dawson of Lost Creek Farm, Lost Creek, WV. Menu available in September. Tickets will go on sale on September 17th.
More dates to come!
OTHER EVENTS ON THE FARM
April 20th: Tour Season begins! Come out for a tour of our new sun-houses and renovated processing building. Hot dogs, BBQ, craft beer and more will be for sale! Free tours from 10:00 to 4:00 Lunch from 11:00 to 2:00.
April 25th: The official launch of Dr. Dickinson's Hangover Helper. Live music, craft cocktails, delicious food, and Dr. Dickinson himself will be here. Free event with cash bar. Food by Chef Paul Smith. Live music by radiowv featuring singer-songwriters Jon Bassin and Tony Harrah. Our natural nigari, the 74 minerals remaining after we harvest the salt, helps revive your body with electrolytes after drinking too much. 5:00 to 8:00.
Mother's Day Brunch, Sunday, May 12th featuring the culinary expertise of Chef Paul Smith!
Tickets will go on sale April 23rd. Purchase tickets here for 11:00 AM seating. Purchase tickets here for the 1:00 PM seating. View the menu selections here.
June 15th: Wine dinner featuring the wines of Three Henrys. Chef Paul Smith will be cooking for this casual, French inspired buffet on the lawn. We will partner with The Wine Shop for special pricing on these wines just making their WV debut. Tickets will go on sale on May 23rd.
The 3rd Annual BB&T Salt Fest will be Saturday, September 28th! This event is free to the public and will host Craftsmen and Food Vendors from all over Appalachia to celebrate the history of the Kanawha Valley. Specifically the history stemming from the Salt Industry that once thrived in the valley, and now, thanks to Nancy Bruns and Lewis Payne, continues to prosper in a new light.
Musical performances by:
Charles Wesley Godwin
Lou Maiuri and the Appalachian Country Cloggers
More to come!
If you are interested in becoming a vendor, please click here to open the Vendor Application. Please send completed applications to Ashton Pence through email (ashton@jqdsalt.com), fax (304.925.7946) or mail ( 4797 Midland Drive, Malden, WV 25306 ). Thank you and we hope to see you at the Salt Fest!
Are you interested in having an event at J.Q. Dickinson Salt-Works? We can handle anything from a casual BBQ to a wedding reception for 300. Corporate retreats, group meetings, lunch and a tour? We do that too! Please contact Marie Clark for information and pricing: marie@jqdsalt.com or (304)925-7918 (office) or (304)982-3017 (cell)